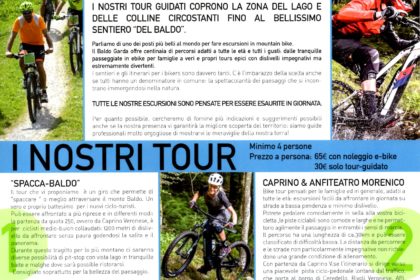 Our guided tours cover the area of Lake Garda and the surrounding hills up to the beautiful "Monte Baldo" path".
Different solutions can be suggested to satisfy everyone's needs.
Paths and roads of all types and difficulties will accompany you to discover
one of the most beautiful areas of our peninsula.
Our professional guides will take you to scenic areas/p>
fantastic where you can find places to taste and enjoy local delights.
All our excursions are designed to be sold out in the day
but do not hesitate to make proposals or requests,
we will try to satisfy every need that will be proposed to us!
For more information,
please call us!